About the Loadbalancer
SoftRules® guarantees clients a scalable and reliable service. Our secret: the Loadbalancer.
You can add an extra layer in between our SoftRules servers and your client application or webservices: the Loadbalancer. The Loadbalancer distributes all SoftRules® traffic among multiple SoftRules® servers. This enhances the system's capacity, enabling SoftRules® to process an exceptionally high amount of data.
The Loadbalancer, which is connected to multiple SoftRules® servers, monitors the server data servers 24/7. This way, the Loadserver always 'knows' which server is best equipped to process a new request.
Once such a request arrives, the Loadbalancer automatically directs the request to the server best equipped to deal with the matter at that moment.
In case a SoftRules® server does not respond anymore, it is automatically removed from the list of available servers. The system sends an automated notification to the administrator, informing him about the situation.
Likewise, as soon as a SoftRules® service is up and working again, it will automatically reappear in the list of available servers and participate in the data processing along with the other servers. Needless to the say, the administrator will receive an automatic e-mail notification informing him about it.
All Loadbalancer status information can be reached via web interface. Whether at the office or at home, the administrator can check the current situation at all times.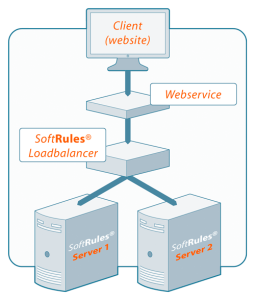 XML-translation
XML translation is possible with XLST
Integration with SOAP or REST services
We provide the necessary add-ons
Easy installation
Fully integrated in your platform using TCP sockets or drop folders
Userfriendly
Supports client-side validation and all modern interfaces
Fast and fully scalable
Incredible speed; multi-threaded, processing up to 2,000 XML's per minute
Reliable
Guaranteed server stability and credibility